What is CoffeeCup HTML Editor?
CoffeeCup HTML Editor is a very convenient and
user-friendly
software for creating websites. It is a WYSIWYG type of HTML Editor. It has a free version and paid version that has more features.  Freelancers and businesses use it to create websites with more ease and guidance. 
This HTML Editor comes with handy and intuitive tools. These tools are what make your coding easier and more efficient. It allows you to create your own custom HTML or CSS files from zero. But it also gives you the possibility to use an existing theme or ready-to-use layouts.
Sometimes it happens that it's necessary to correct codes and solve errors. And that's exactly where CoffeCup comes in.
It is like your best friend and an intuitive tool that allows different website components to
be updated
instantly
. Also, it provides a live preview and many other options and features.
Many users choose CoffeCup as their main tool that improves coding efficiency. Here you will read everything you need to know about the CoffeCup editor and see if it is a good option for you.
What features does CoffeeCup HTML Editor offer?
There are many options that CoffeeCup offers its users. To begin with, it's important to emphasize that there are two versions of the CoffeCup HTML editor. There is a free version, as well as a paid version.
The paid version offers more features and is often a favorite of IT experts, but also of all fans who want to explore all the CoffeCup possibilities
.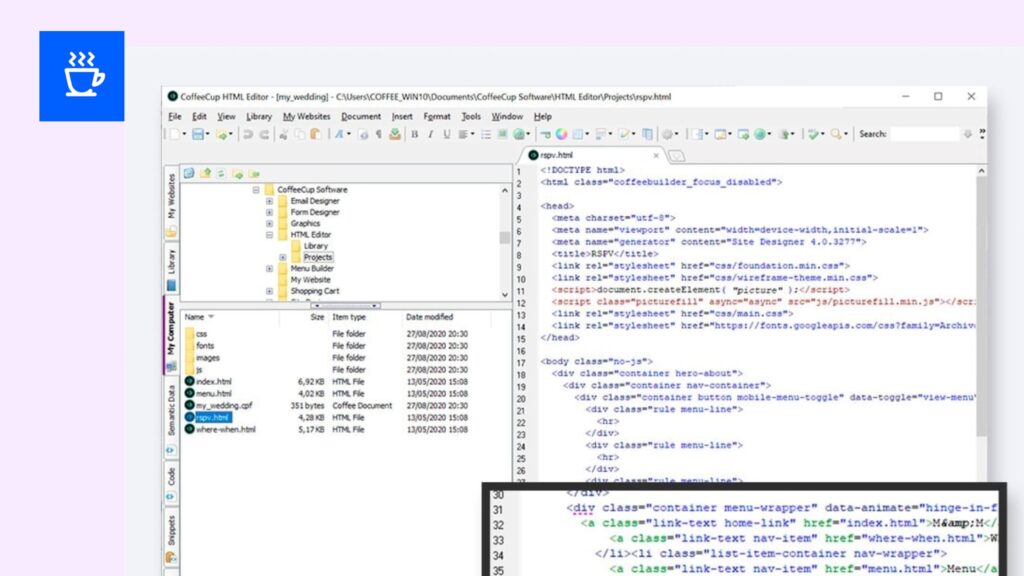 Free CoffeCup HTML editor option features 
Quick start

– there are a lot of start options, so you can get into creating HTML from scratch or by using some theme or layout

. Also, if you already have a website you need to work on, you can open files from your PC or web server. Yet, you can choose any website, it doesn't need to be yours.




Organization

– the CoffeCup structure works so that every command flows

smoothly

. This can

automatically

solve the problem of broken links or images. Website Projects is a great feature that helps you organize your website for you.




Valid codes

– CoffeCup designed sections such as Tag Reference, Code Completion, and a built-in Validation Tool that helps you to write codes with confidence and cut potential mistakes

. 




Live preview

– now you can watch live what is being displayed on your website while writing or editing HTML at the same time

. You can choose the split-screen, another window, or second-monitor option. Pick what suits you best and enjoy the ease of coding.
Additional
Paid CoffeCup HTML editor features
Tag highlighting

– you

are tired

of searching for an ending div tag </div>?

CoffeCup decided to design another great feature for tag end highlighting, to once again provide ease of coding

.

Templates

– guess what? Web development can be fun! CoffeCup HTML editor offers a variety of 100% responsive templates. So, download anything you want to try and enjoy!

New Start Screen

– whether you want to choose a template or start a complex web project, the new Start Screen will allow you to work

quickly

and

efficiently

.

Quick start

– as with the free version, you can choose to code from scratch, use a theme, open the file from your computer, or download it from any website

.

Organization

– another great feature, that can

be found

in both the free and paid CoffeCup HTML editor versions, is the Website Projects section

.

It allows you to organize your website in the way that is most convenient for you, thus giving you complete control over it

.
CoffeeCup HTML Editor pricing
You can get your CoffeCup HTML editor for an incredible price of only $29.
Considering all the mentioned advantages that make coding and web development easier, the ratio of quality and price is excellent
!
Imagine having access to all these great features that will definitely allow you to be more efficient at work for only $29
. Well, say no more! I'm down for that. 
Check out the CoffeCup website for the right payment information. You can use PayPal or proceed to the checkout method. But, you can always try the free version first and see if CoffeCup is your
cup of coffee
!
How does the CoffeeCup HTML Editor compare to other available HTML Editors?
Unlike some other available HTML editors, the CoffeCup editing functions are easier to use
.
The code analysis is very helpful, as well as corrections suggestions that are so useful and can save time
. 
Some other HTML editors also offer the split-screen feature, but CoffeCup provides you with other options too
. So, you can choose if you want to work in another window or use two monitors as well. 
The CoffeeCup also contains useful wizards that serve as a guide to inserting images, audio files, links, tables, etc. CoffeCup saves time and makes editing more efficient
.
Another great option is the FTP upload feature which allows you to do work and upload without the need for other applications
.
What do real users say about CoffeCup HTML Editor?
CoffeCup users often emphasize the easier use of this HTML editor. Many IT beginners like to work in CoffeCup because of its simplicity, as well as its rich functions.
Many designers and developers choose this HTML editor due to its simple error identification
. This gives them quick and easier solutions.
A very important thing is also SEO which is one of the most important factors of a good online business. With CoffeCup, your web content will be more recognizable to search engines. 
CoffeCup users choose this HTML editor because it also offers an FTP upload feature. This removes the need for another application when uploading content. 
The drag-and-drop feature is another reason why users choose CoffeCup. Also, you don't have to worry if you don't remember HTML syntax. CoffeCup generates most HTML tags and you only need to fill in the content part. 
People value when they have the trial option.
CoffeCup also offers a free version that includes interesting features and provides you with a credible image of this HTML editor
.
What do real users like about CoffeCup HTML Editor?
Ease and simplicity of use

Works for professionals, but also beginners

Quick and efficient editing

More useful features (such as FTP upload features, drag-and-drop feature, split-screen, etc.)

Low and competitive pricing of the paid version
These negative comments as well
are taken
from Software Advice and G2 websites where you can find real user comments about the CoffeCup HTML Editor.
What real users don't like about CoffeCup HTML Editor?
Restricted to

just

HTML and CSS 

Fewer features on the free version

Available only for Windows

Problems with larger files
Same as positive comments, these comments as well
are taken
from Software Advice and G2 websites where you can find real user comments about the CoffeCup HTML Editor.
Conclusion
Simplicity and speed of web development are very important nowadays. This is why many programmers choose tools that will ease their coding. There are multiple free HTML Editors online that you can use as well. But usually, some paid additional features are quite valuable.
CoffeCup proved to be a great program that offers many features for easier HTML writing and editing
.
Most people consider CoffeCup to be a reliable and efficient tool that has great performance
.
It
is recommended
to try the free version which will provide you with a basic picture of CoffeCup's capabilities
.
If it turns out that this HTML editor is exactly what you need, you can always go to the paid version and enjoy the many options it provides
.